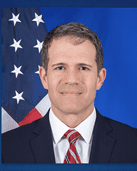 In a lively and truly insightful meeting, Richard H. Glenn, head of the U.S. Delegation to Chile, painted a picture of a country that emerged from the military dictatorship in the 70's and 80's to become a strong partner with the U.S. in promoting the values of democracy. Chile's transition from dictatorship to a strong, forward-thinking government "is testimony to a success story." We will help them promote "the things they've done well.'
He mentioned that the Department of State has a specific mission for each country, and described primary goals for Chile:
To protect Americans abroad and at home.
To help Chile promote the values of democracy.
To support their dedication to rule of law.
To partner in the development of a free market economy, prosperity, and economic stability by promoting bilateral commerce with economic training and investment opportunities
To protect human rights with a focus on stopping human trafficking.
To assist in Chile's high-tech innovation and dedication to protecting the environment.
Chile is already a leader in developing green energy. With no hydrocarbons as a resource, they have looked to producing sustainable green hydrocarbons as a "model for the world to address energy needs." He also mentioned that Chile has taken a leadership role in science and technology innovation for environmental protection with a focus on Antarctica and the growing "geo-political reality."
When asked about COVID in Chile, he said that COVID had dominated last year. His priority was to keep his mission safe, and much work was done from home. The government did a "tough lock down" at the beginning of the pandemic which kept the COVID numbers down in the country. Chile has a very high vaccination rate due to strong vaccination protocols even prior to COVID, and now, Chile leading the way in "how to reopen a post-COVID economy."
Chile's market economy has made it one of the most prosperous in South America. Copper mining, agriculture, and tourism are among its chief industries. With a growing-season opposite that of the U.S., Chile can fill our demand for fruits and vegetables during the fall and winter here. However, just as regional drought and floods are a growing concern in the United States, Chile is also experiencing parallel regional floods and drought that threaten agricultural production. In terms of industry, John Deere, Caterpillar, Amazon, and financial services have strong presence in Chile.
Copper mining has long been a staple of Chile's economy, and now most of the production is being sold to China, "giving them an alarming sphere of influence." China also owns 51% of Chile's electricity distribution. As other Ambassadors have mentioned, China's buying power has made them a strong partner which affords them political and economic clout that could challenge the U.S. agenda.
Chargé Glenn emphasized that relationship building is key to a successful mission. It "is the "personal relationships that make things possible. Getting to meet with and know leadership both in business and in government is critical to accomplish the goals of the U.S.


We were delighted to hear him mention the International Visitor Leadership Program and CDA's role in building personal relationships, as well. He said that wherever he has been posted he meets IVLP Alumni who now have important roles in their countries. In Chile, the Vice Minister of Trade is an alumnus, as is the leader of the Community Party who learned about inner city programs in Baltimore as an IVLP participant.
We want to thank Chargé d'Affaires Glenn for his candid and thoughtful insights into Chile, and its developing leadership role on the global stage, and our strong and strategic collaboration with them.
Submitted by Patricia Houston, VP of CDA