Consul General Laura Biedenbach,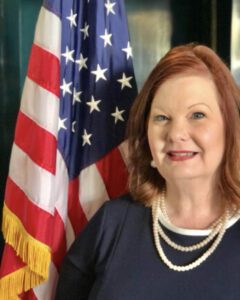 U.S. Consulate Nogales, Sonora
One of my favorite projects at Citizen Diplomacy Alliance is our Meet the Ambassadors program. How many people have the chance to see our world through the eyes of our amazing Foreign Service diplomats directly from our embassies abroad? In the past year, we have visited with Ambassadors, Chargés d'Affaires, and Consuls General from over 18 countries in Africa, Europe, South America, and more for up-close and personal insights into the complex, strategic economic, political, cultural, and natural forces changing our world at lightning speed. And even better than meeting our diplomats by Zoom, is meeting them in person and getting to know them beyond their official capacities. Pat Watson, CDA Executive Director, has worked her magic in bringing together—in person—current and former Foreign Service professionals that keep us connected.
The recent Zoom with current Consul General in Nogales, Sonora, Laura Biedenbach was moderated by her predecessor in that role, Virginia Staab. They had collaborated on the transition electronically, but only met recently in person through Pat at an informal dinner. The professional relationship was clear and so was the more personal friendship. According to Laura "it's bizarre to try to build relationships through cameras." And later Virginia added: "it's rare to have the opportunity to commiserate even after the handover…". Viewers had a glimpse of both the pre-pandemic past at the border, and the vision for the post-pandemic future. As the border re-opens, Laura mentioned that we are: "looking for a new rhythm—not going back but looking forward.
The top priority for Laura's team is "protection for U.S citizens in the region." Border security, infrastructure, economic development to help mitigate the need for mass migration, and logistics are all critical issues. She added that Sonora's newly elected Governor Alfonso Durazo, and the mayors of both Nogales, Arizona and Nogales, Sonora (Ambos Nogales), are all working together. "The relationship between Arizona and Sonora is so strong, they will always be there for each other.
Infrastructure on both sides of the border is in great need of upgrades.

A priority is upgrades to the Port of Entry sites in Mexico and the U.S. to better handle the current long delays for border crossers and to provide additional security. As the holidays approach, the "pent up need" for families to reunite after COVID will begin with the re-opening of the border on November 8, 2021. Epic delays are possible, and traffic mitigation is essential. Sufficient staffing at the border to ensure timely paperwork and to expedite the expected traffic at the crossings is an immediate logistical issue.

The long-standing problem of sewage flowing from Nogales, Sonora into Nogales, Arizona will be a priority for infrastructure upgrades. Plans for resolution are underway.



Economic Development: Economies on both sides of the border depend on the easy flow of traffic between the two regions.

The border shutdowns during the pandemic have had a devasting impact on the area, and ways to re-vitalize the commercial and tourist flow is critical.

Stemming the flow of migration to the border will depend on regional economic development to eliminate the need to flee homelands.
Migration: Status: Bi-national focus is on eliminating root causes to stop the flow of migration. Currently shelters are at capacity.

Nogales, Sonora Mayor Gim and his team have formed the Migrant Council that has brought together a range of public and NGO agencies to identify resources for those stuck at the border.

The Council is working with the maquiladoras and other industries to identify training and job opportunities for the migrants.

On the U.S. side, Title 42 remains in place. The government needs to develop a new humanitarian immigration process.
Security: At the Federal level, the U.S. and Mexico governments and law enforcement agencies are collaborating to establish regional security.

Travel advisories are in effect due to escalating crime and kidnapping.

Magdalena de Kino, Caborca, and Altar are worse than Puerto Peñasco.

U.S. government employees are prohibited from travel Caborca and Magdalena due to high security risk.
COVID 19:

Sonora's proximity to the border and donations of the vaccine, have resulted in high vaccination rates in the area.

At this time, U.S. citizens cannot be required to show proof of vaccination to enter the U.S.

Others entering the U.S. need proof of vaccination or proof of recent negative test.

Currently Mexico does not require proof of vaccination to enter.
While there are still very serious border concerns, and Customs and Border Patrol and other agencies are trying to balance so many issues, the two regions are working closely find solutions.
Before closing this insightful and informative session about our Sonoran Desert region and the inherent connections and cautions, Virginia Staab, former Consul General to Nogales, and Laura Biedenbach, current Consul General to Nogales, caught up on another major project dear to both of their hearts. The vision and design of our brand-new Consulate in Nogales, Sonora began during Virginia's tenure and is promised to be completed during Laura's tenure in Nogales.
The progress is exciting, and according to Laura, the "topping out" ceremony was to be held a few days after her talk. She explained that "topping out" is the pouring of the final slabs of concrete at the "top" of the building. As she was explaining, she added, "It is scheduled to open in 2023, and she will be happy "as long as I get to cut the ribbon…!"
What a pleasure to spend time with Laura and learn so much about the economics and politics that have such an immediate impact on us. It was also a privilege to have Virginia Staab as moderator. We had a glimpse of both the recent history and the future of the region through the eyes of two of our diplomats who are shaping it.
Submitted by Patricia Houston, VP CDA