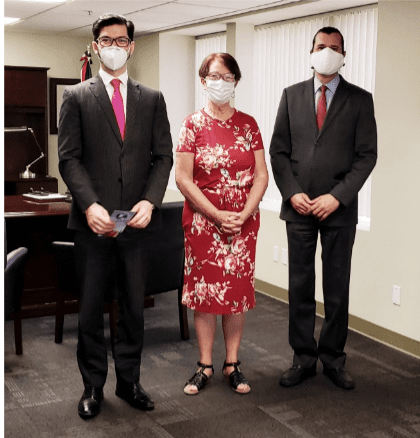 Pat Watson met with Consul General Durazo, Deputy Consul General Montiel of the Mexican Consulate in Tucson. Consul General Durazo and Deputy Consul General Montiel both assured Pat that Citizen Diplomacy Alliance is welcome to continue to use the Mexican Consulate for gatherings once the COVID 19 pandemic has passed. Both of these gentlemen are fantastic representatives of the Mexican government, we are fortunate to have them in Tucson and supporting Citizen Diplomacy Alliance.
The Mexican Consulate will be the site for the annual Citizen Diplomacy Alliance on April 9, 2022 at 2 p.m. Chancellor Lee Lambert from Pima Community College will be the key note speaker!!
The partnership between the Consulate, Pima Community College and Citizen Diplomacy Alliance opens the door for learning, sharing and working to make a more peaceful, stable world. Join us and let's move forward toward peace!!