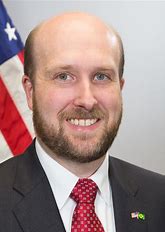 From the U.S. Embassy in Guatemala, Ambassador William W. Popp shared his insights into the complexities of the many facets of Guatemalan culture, history and politics and its role on the global stage
Only "one border away†from the United States, and one of the poorest nations in Latin America, Guatemala's unstable economy has opened doors to increased migration, drug and human trafficking, and violent gang activity that are filtering through Mexico into the United States. Economic instability and governance challenges are due, in part, to geographical and cultural fragmentation among the population, as well as outside influences.
Geographically, Guatemala is divided by several mountain ranges leaving large populations isolated from the mainstream. Culturally, with the largest indigenous population in the hemisphere, Guatemala is further divided by language barriers as isolation has kept many from speaking Spanish.
"Generating Hope†is the phrase that Ambassador Popp used to describe a major priority of the U.S. presence in Guatemala: "there is great potential for prosperity with "Bio Resources†in agriculture, and the U.S. is helping to promote sustainability practices in the face of climate change.
The Ambassador also mentioned that Guatemala is emerging as a regional provider of "Call Centers†and education with an emphasis on English as a Second Languages is another priority. He specifically mentioned the need to create more collaborations between U.S. and Guatemalan educational institutions. When Pima Community College was mentioned as a prime candidate for a strong educational partnership, the Ambassador offered his resources to further explore the potential. Work on that may have already begun.
Additional critical initiatives between Guatemala and the United States include:
Humanitarian Aid for victims of two devastating, back-to-back storms
COVID support: $27 million of assistance for equipment, testing and tracking, and so far, 9 million vaccines donated
Reducing crime: build internal capacity to cope with organized narcotics, human trafficking, and economic and violent crimes. Homicides are down 60% in three years, and extortion is down 90%.
Increase inclusion and civic participation: give a voice to excluded populations in government and increase prosperity in poverty areas. V.P Harris met with young women entrepreneurs to learn about challenges and hopes.
Support Good Governance and eliminate corruption at all levels as lack of trust that the government is functioning on behalf of the people that is a driving force for migration.
Strengthen legal pathways to the U.S. and create special worker visa programs reduce illegal migration and the organized crime generated.
Despite these concerns and challenges, Ambassador Popp reiterated that this beautiful country rich with cultural and natural diversity will be a wonderful travel destination for any of us ready to go.