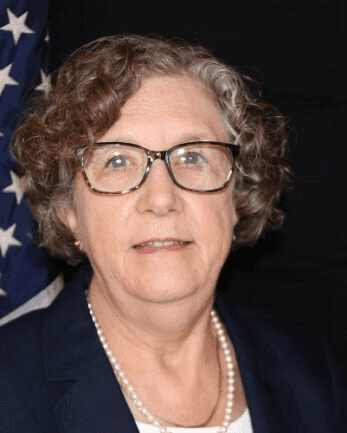 Ambassador Clark began her talk by expressing her gratitude to CDA and our involvement with the International Visitors' Leadership Programs (IVLP). She reiterated that: "It is the best program that we (The U.S. Department of State) have to create a bond and mutual understanding between the U.S. and other countries." She referred to the Young African Leadership Initiative that brings emerging leaders from African Nations for a university, social and cultural experience in the United States, and she mentioned the IVLP Burkina Faso group that CDA hosted recently.
Ambassador Clark turned her attention to Burkina Faso and mentioned that her tenure there has been an unusual one. She arrived there in 2020 during the height of the Pandemic and during the Presidential Election that gave a second term to the incumbent, pro-democracy candidate. Soon after in 2022, there were two separate coups ultimately leading to the current military dictatorship that changed relationships and priorities for the U.S. She mentioned that many of her "personal relationships have remained strong, and she has been able to continue to focus on human rights, health, internal security, and economic development programs. She has found that the Economic Unity of West Africa group, modeled after the European Economic Union, has potential to be a strong partner for development, but the changes in government have limited Burkina Faso's participation in the group, making continued efforts to return to free elections and a path to democracy an even higher priority.
Burkina Faso "is a poor country, toward the bottom of international rankings." Key issues include border security after a series of Islamic terrorist attacks, food insecurity—especially with severe drought conditions–, and since the war in Ukraine has greatly reduced the exportation of grains. Poverty and outside influences have also resulted in high crime rates. Investments in education and training for economic growth, and elimination of rampant crime due to current "tremendous hardship" are also priorities. The United Nations and other international agencies are collaborating with programs addressing these key concerns.
When asked about Russia's influence in Burkina Faso, she mentioned that they are primarily investing in mining there, but they do not have an Embassy in-country.
Ambassador Clark described the people of Burkina Faso as a "culture of cohesion…known for religious tolerance and a deep acceptance of other traditions that enables them to hang together against trouble." There is a respect and sharing of cultural traditions, and they share and participate in each other's holidays. She is "hopeful that they maintain their incredible resiliency and basic hospitality and humanity that they find in their diversity."
And, when she was asked by a CDA member: "how do you navigate the Ambassador's role in such contradictory circumstances,"she replied: "You must understand what is being said and then what they really mean. That takes time and experience. You must build personal relationships early so difficult conversations later will be easier: it is about good communication, good explanation of dynamics, and how to move forward to achieve a particular goal." 
Submitted by Patricia Houston, President of Citizen Diplomacy Alliance.