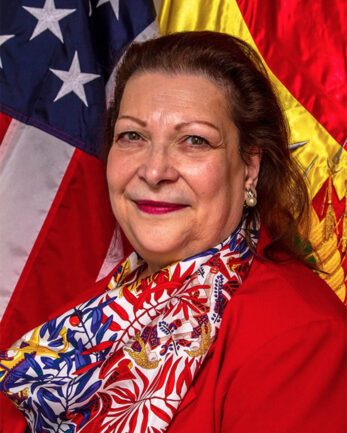 What many books touch on when they talk about Bolivia, grinned Charisse Phillips, "are Ché Guevara, Butch Cassidy and the Sundance Kid, and Ancient Aliens.†Since August, 2020 she has been the Chargé d'Affaires at our embassy there, and she wants everyone to understand that Bolivia, with huge cultural, economic, political, and geographic pressures, plays a complex and difficult role on the world stage that may not always be visible. When she was first told of her assignment, they said it would be a "quiet assignment†and she envisioned a place of majestic snow-capped mountains high in the Andes. And she eloquently let us know that first, Bolivia is so much more than that. And, second, it certainly has not been a "quiet assignment!â€.
Bolivia consists of three distinct geographic regions: the Altiplano (13,00 ft. altitude), the valleys, and the tropical lowlands. It is one of the two South American countries with no outlet to the sea, but it does have natural mineral resources and rich agricultural areas that supply much of the region's coca crops. Traditionally and culturally the coca leaf when brewed into tea or chewed is used medicinally to combat altitude sickness and is ritually integral to the culture.
Each of these areas contributes to the contention internally in Bolivia and internationally.
Rich deposits of silver, gold, and tin for centuries has invited foreign exploitation of mining in Bolivia, and now large deposits of lithium have captured China's interest. Lack of access to the sea and trade routes have been at the root of wars with neighboring countries. And control of the cultivation of the traditional coca leaf, now a primary export to South America and Europe for use in the processing of cocaine, has caused internal violence and a breach in relations with the United States. Chargé d'Affaire Phillips is working to smooth relations in each of those areas, while also working through pandemic-caused issues.
One of the areas she stressed in her chat was the recent political situation in Bolivia under the government of President Evo Morales, first Indigenous president of the country, and former leader of the coca growers. In 2008 President Morales expelled the U.S. Ambassador from the country for "meddling in internal affairs. Then he expelled USAID, accusing them of being "an intelligence agency.†When his term was coming to an end, he called a national referendum to allow him a 3rd term. When he lost that referendum, he told the Supreme Court to declare that it was "his human right to have as many terms as he wanted.†During a time of much violence leading up to the elections many of the candidates dropped out, leaving Morales' party to win.
There are several primary priorities that Chargé Phillips will be working on, in addition to the pandemic:
To improve the relationship between the two countries to regain permission for full diplomatic relations and to bring back an Ambassador.
To counter the former president's portrayal of the U.S. and create a "friendship†for collaborations in a range of areas.
To develop a strategy to improve the environment. Mining with dynamite as its ts primary tool has been very destructive to the environment and in non-agricultural settings. And coca cultivation has also done much harm with the continual clearing of more land for crops.
As she neared the end of her talk, she asked: "Can we improve relations with Bolivia?†And then she answered with an emphatic: "Yes We Can!â€
We think she absolutely will!