Director of Middle East and Central Asia
Mexican Ministry of Foreign Affairs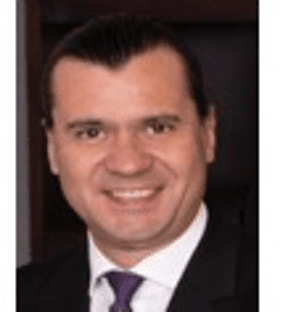 This "ambassador†meeting held a very special treat for CDA members as it was a wonderful reunion with Enrique. Prior to being called to service in Mexico City, Enrique had been Deputy Consul from México to Tucson and a wonderful friend to our group sharing his time and insights with us professionally, and his fun and family in more casual settings. Seeing him again and listening to his descriptions of México's expanding role on the world political stage, and his own insights into the very important role he is playing, was inspirational and exciting.
He began by talking about México's most important relationships with the U.S. because of proximity and with Spain and Latin America through history and heritage of culture and language. But he also made note of the fact that relations with the Middle East are long-standing with Israel and Saudi Arabia, and former Soviet countries, in part because of immigration to Mexico. Lebanese also migrated to Mexico and through their ties with Lebanon, created strong relationships between the governments. He noted that Carlos Slim of Lebanese descent, and one of the wealthiest people in the world, has used his influence to help connect Mexico with the Gulf countries for strong collaborations. He said that an important part of the collaborations is focused on educations "We don't know each other as we should…increasing bilateral interests and increasing tourism and cultural education†is a primary focus. He mentioned that Israel is their most important trading partner in the Middle East and increasing trade agreements in that part of the world is also a priority. In support of sharing cross-cultural and economic contact, new daily airline flights are now connecting Mexico City, Barcelona, and Dubai.
His work with Northern Africa is focused Morocco, Tunisia, and Algeria. Egypt and Saudi Arabia, along with former Soviet countries are grouped together. Mexico's interaction with and Afghanistan and Syria and other countries in conflict is primarily in the form of humanitarian aid for refugees living in camps.
With Mexico's long and successful archaeological history with discovery, restoration, and protection of heritage sites, the partnership with Israel, Egypt, and Iraq is strong with the need to help halt the looting of cultural treasures a high priority.
Enrique also mentioned that the establishment of long-overdue embassies in these areas will help to promote additional development and trade agreements—especially in the areas of both oil and renewable energies, and facilitate tourism and educational opportunities in both directions for increasing these global connections.
The hour plus that we spent with Enrique went by so fast that before we knew it, time was up. I'm not sure anyone was ready to stop. Insightful. Articulate. Informative. Fun!!!
Sending Abrazos y Agradecimiento a nuestro amigo, Enrique. We miss you here!
Article by Patricia Houston